From Legoktm
For Spring 2020, I served as science & tech editor. I primarily wrote a column, Binary Bombshells, that covered a different issue related to technology and its values every 2 weeks. Other areas of focus included elections and encryption.
Online learning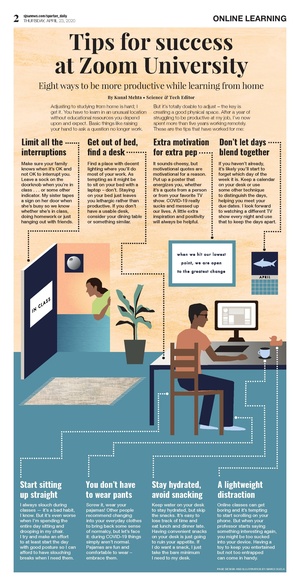 The design by myself and Marci Suela won in the design category for the College Coronavirus Coverage competition, organized by the Society of Professional Journalists, the Society for News Design and others.
"
Check out the full-page infographic written by Kunal Mehta and designed by Marci Suela. Work like that will keep newsprint relevant, simply because it's (not yet) easily transported to a phone or even a laptop.
"
— The CCC Awards, Design Winners Weeks 3-5
Additional versions were created for Twitter, Instagram and Instagram stories that took advantage of each platforms' sizing and formatting.
Science & Tech news
Binary Bombshells
Arts & Entertainment